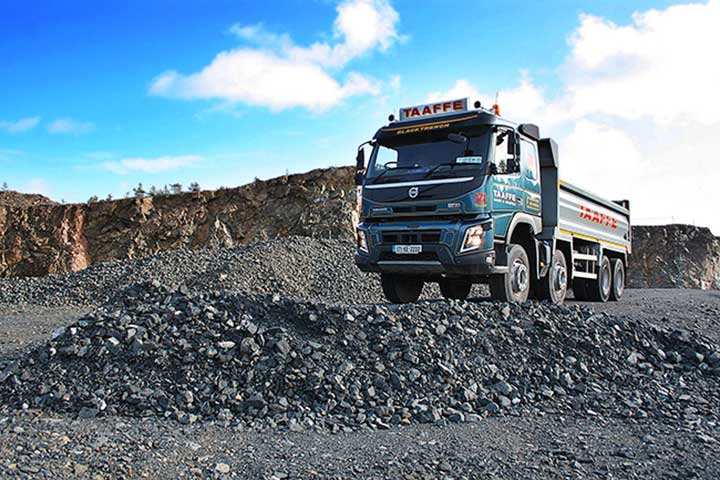 About Us
Taaffe Sand & Gravel supply Sand & gravel, crushed stone, drainage stone, all roadmaking materials and topsoil, we also provide a site clearance service. From Laois to Meath and from Wicklow to Athlone, Taaffe Sand and Gravel have the Leinster area covered with a full range of site clearance, digger hire and aggregate supply services. If you need us to take rubble and waste from a site or development, or if you need certified aggregates for your next project, call us now on 045 430536.
We're located at Blacktrench Naas Co. Kildare, a position that gives us immediate access into all parts of Kildare and the East. With almost twenty years of local and regional construction industry experience behind us, we generate strong and lasting relationships with clients who have come to rely on our site clearance and sand & gravel supply services.
Taaffe Sand & Gravel are a wholly Irish owned family operated business. We have unrivaled local knowledge, excellent logistical skills and a complete commitment to upholding our exceptional quality and safety standards.
WHO WE ARE?
We are a small Kildare based business who specialise in servicing the construction industry. Our approach is very hands-on and we are committed to the highest safety standards.

WHAT WE DO
• Sharp Sand
• Soft Sand
• Shingle, Dry fill & Hardcore
• Granite & Limestone Pebble
• Soft Washed Sand
• Crushed Stone & Chippings
• Quality Top Soil
Leading Supplier to Contractors & Construction Companies for over 20 years.
Leinster's premier supplier of machinery hire and aggregate supplies.
Our experienced team are on hand to help with your enquiry.